4 Reasons Your Business Should Incorporate E-commerce

Maher Chamma
Although online shopping has trended upwards for years now, e-commerce has proved its true value over the past two years as many customers across the globe have resorted to online shopping over brick-and-mortar stores during the peaks of the COVID-19 pandemic.
US e-commerce retail sales steadily rose 6% from 2012 until 2020. Due to the shift in customer shopping behavior caused by the pandemic, this number skyrocketed 4% in a matter of months.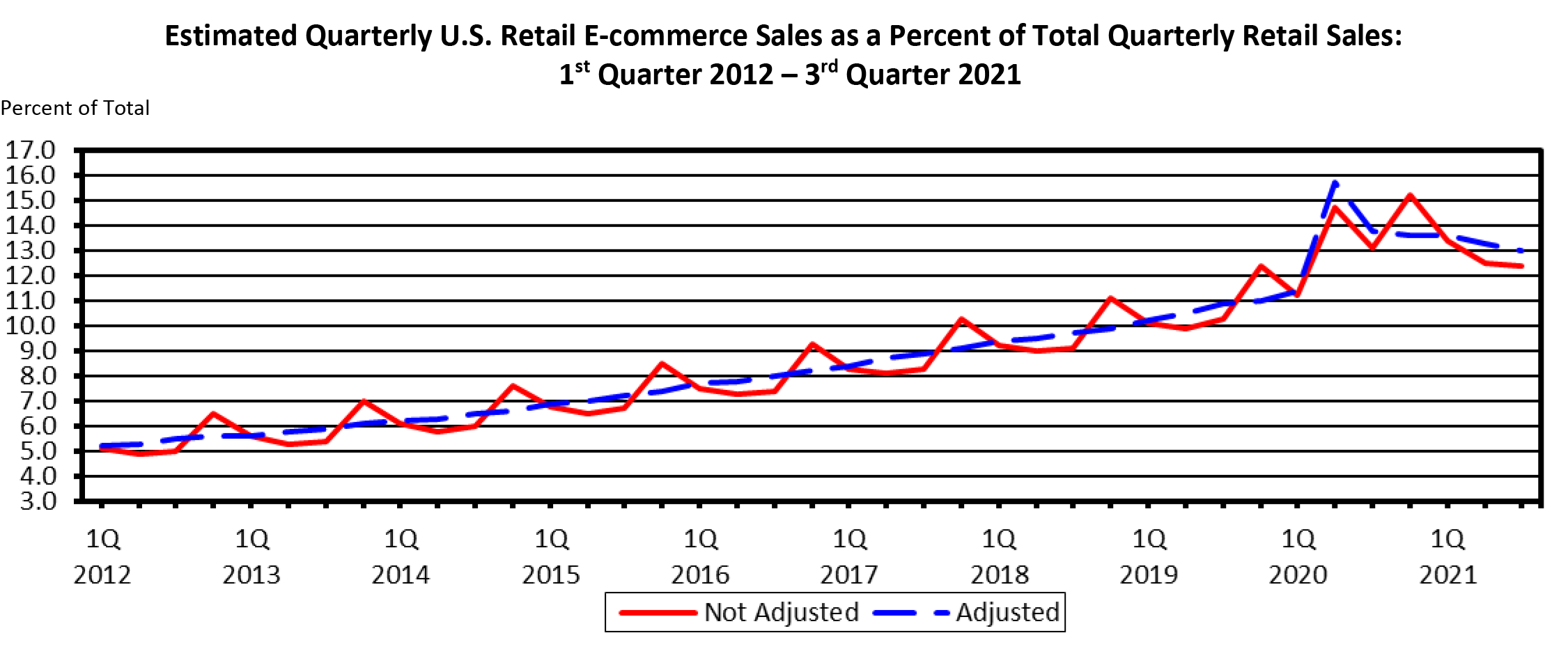 This huge shift in online sales patterns has made it very clear that if you aren't incorporating e-commerce into your business strategy in 2022, you are actively disconnecting with both your target and potential audience. As e-commerce platforms have become more accessible and more affordable for companies of all sizes, there is no better time to incorporate e-commerce into your strategy than now.
In this blog, we'll take a deeper look at 4 reasons that make e-commerce a necessity for your business. Regardless of whether you're a small family-owned shop with a very specific target audience or a large business with thousands of customers across the globe, advancements in e-commerce technology have made it accessible for any business to create an online sales platform that aligns with its business strategy.
1. Reduce Operating Costs
The rapid growth in technology and competition in the e-commerce software space has made it easy for companies to kick-start their e-commerce efforts with plans available to fit the specific needs of businesses. Ease of access for this technology allows businesses to be more strategic with how they create shopping experiences for their customers in both brick-and-mortar locations and online.
Online shops allow you to showcase your entire inventory to your customers without having to expand, or even purchase a retail space. This can prove to be a huge advantage for small businesses that can't operate in a space large enough to showcase their entire inventory of products. Additionally, it gives the option for small businesses that don't need a retail storefront to shift their business entirely online - saving them from potentially large operating costs.
For mid-to-large-sized businesses with multiple locations, e-commerce allows for these businesses to be more strategic on how they handle brick-and-mortar locations compared to their online shopping experiences. Online shopping experiences can help larger businesses reduce rent costs and the need for staff, target customers more effectively, and control different streams of traffic.
Additionally, start-up costs for e-commerce businesses are much cheaper than creating a brick-and-mortar location. Without the need for a large initial investment, e-commerce opens the door for nearly anybody to sell their product or services and begin building a customer base.
2. Scalability
Regardless of your company's age, you should be thinking about all business decisions with scalability at the forefront - especially in today's digital age. Ecommerce provides your business with the tools necessary to continue expanding in the digital world we live in today. Due to the flexibility of how you can operate your online shopping experience, there is always room to shrink/expand your efforts to fit with current consumer trends.
For example, by operating an e-commerce store your business could expand into different product categories and reach a new customer base thus expanding your reach and sales. As you nurture your new customer base, new business opportunities will begin to present themselves taking your business from a small mom-and-pop shop to a thriving online store.
Additionally, many e-commerce sites have payment options that are very attractive to consumers such as payment plans and paying in different currencies. This can be a hassle when operating a brick and mortar store but e-commerce sites are making it easier than ever for both business owners and customers to get the products they want in the easiest manner possible.
3. Marketing Opportunities
Ecommerce and marketing are truly a match made in heaven. Digital marketing channels such as organic search (SEO), paid search (SEM), social media advertising, email marketing, content marketing, and affiliate marketing provide businesses of all sizes with more avenues to reach their consumers than ever before. For businesses only operating in brick-and-mortar stores, marketing efforts can be hard to digest as it's difficult to track how customers interact with your physical marketing efforts. Contrarily, the quality of data acquired via digital channels is exponentially better than traditional marketing efforts providing companies with the necessary insight to drive key business decisions.
As Integrated Marketing Communication (IMC) campaigns have become a focal point for many businesses to ensure their customers are receiving consistent and relevant messaging across all touchpoints, an e-commerce presence has never been more important. By unifying your brick-and-mortar storefront, online shopping, and advertising experience, you create a one-of-a-kind customer experience that helps build brand loyalty.
4. Consumer Shopping Behavior
Trends continue to point that online shopping is becoming a preferred method for many with recent findings showing that over 60% of US consumers that have internet access shop online at least once a month. Without an online presence, you're limiting your reach across target audiences to whoever interacts with your storefront and giving the competition a huge advantage. In today's digital-first world, you cannot afford to miss out on the potential customer base that exists online.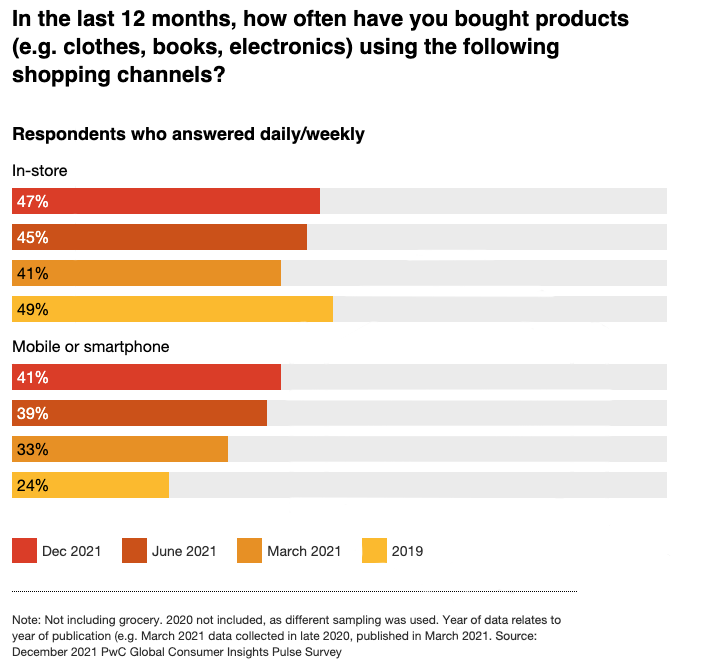 As customers adjusted to online shopping during lockdown periods and while working from home, PwC found that many do not think they'll go back to their old shopping methods once the pandemic is over. For companies currently lacking an e-commerce/online presence, this is a very concerning thing to hear. Although it may require drastic shifts to an organization's business model, the chance to connect with your customers beyond a physical storefront is critical as technology continues to evolve and become more accessible.
According to PwC's 2021 Global Consumer Insights Pulse Survey, mobile shopping has jumped from 24% in 2019 to 41% in December 2021. As older generations are forced to become more tech-savvy and keep up with generations that have grown up in the digital age, this trend should continue to steadily increase. Ecommerce allows your business to expand and gives the end consumer an opportunity to order your products from anywhere across the globe on their mobile device. Experts predict by 2040, 95% of purchases will be facilitated by e-commerce. For those of us who felt like the year 2000 was just yesterday, 2040 will be here before you know it and your business must be prepared to meet the needs of customers.
Conclusion
At the end of the day, expanding into e-commerce is very easy and offers a huge competitive advantage over any competition that isn't utilizing it to its full potential. Coming in with little risk and usually little cost, you can vastly change your business size, sales, and customer base just by incorporating an e-commerce strategy into your business plan. If your business is not in the situation to leverage an e-commerce system, you should at the very minimum be expanding your online reach via social media, websites, and digital marketing to keep up with the digital trends of consumers.