NetSuite Advanced Procurement

Maher Chamma
The supply chain has always been an essential aspect of any business. Efficient procurement processes are crucial for ensuring smooth operations, maximizing profit margins, and maintaining strong vendor relationships. In today's competitive business landscape, it's more important than ever to have a reliable and intelligent procurement solution that can help streamline these processes. NetSuite's Advanced Procurement module does just that, offering a comprehensive suite of features and tools designed to help businesses optimize their procurement operations. In this article, we will explore key functionalities of the Advanced Procurement module, including blanket purchase orders, purchase contracts, request for quote, purchase requisitions, and vendor invitations.
Blanket Purchase Orders
Blanket purchase orders (BPOs) are a convenient way for businesses to establish long-term agreements with their suppliers. They set predefined terms and conditions, which can include specific pricing, delivery schedules, and quantities. With NetSuite's Advanced Procurement module, you can create, manage, and track BPOs, allowing you to leverage volume discounts, simplify the ordering process, and minimize administrative tasks. BPOs can be set up with a validity period, ensuring both parties adhere to the agreed-upon terms, and can be easily modified to accommodate changes in requirements or market conditions.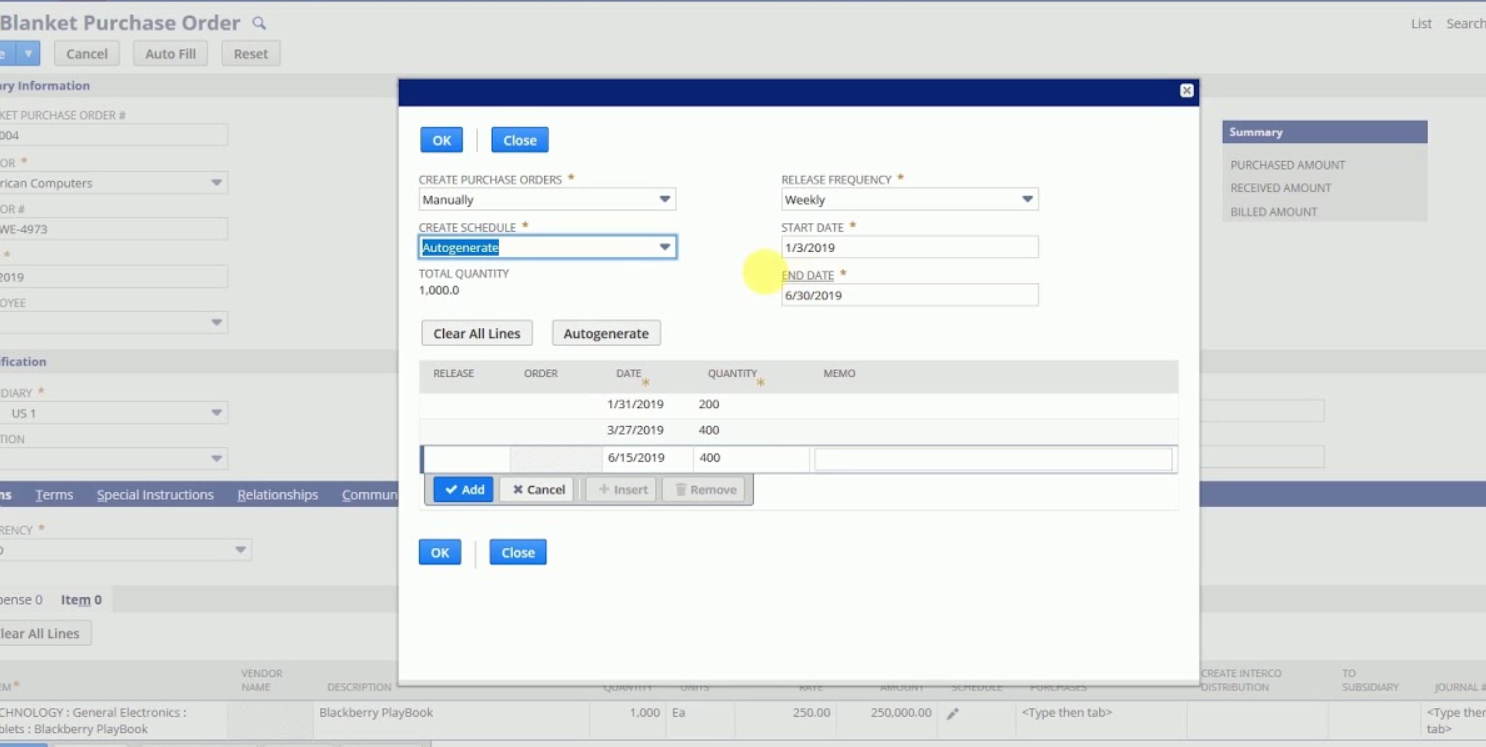 Note in the above screenshot the following elements:
Create Purchase Orders: The options here are At Lead Time or Manually. At Lead Time meaning the purchase order can be released based on a date window when the lead time is in effect for the given release date, on the Order Items page. Manually means you need manually release each line on the blanket purchass order.
Create Schedule: The options head are Manually or Autogenerate (take note of the Release Frequency and Start Date and End Date for this option)
Purchase Contract
Purchase contracts are legally binding agreements between buyers and suppliers that outline the terms and conditions of a procurement transaction. NetSuite's Advanced Procurement module allows businesses to create, manage, and track purchase contracts with ease. This includes setting up specific terms, such as pricing, delivery dates, and payment terms. The module's robust analytics and reporting capabilities enable you to monitor and evaluate contract performance, ensuring that you're meeting your procurement objectives and maintaining strong supplier relationships.
The purchase contract can be created manually or can be generated from an accepted Vendor RFQ Bid. The purchase contract can then be linked to a purchase order to auto-calculate the contract terms on the PO and ensure and track compliance of the contract.
Vendor RFQ
The request for quote (RFQ) process is an essential part of the procurement cycle, allowing businesses to solicit competitive bids from multiple suppliers. NetSuite's Advanced Procurement module streamlines the RFQ process by providing a centralized platform for creating and managing RFQs. You can easily create an RFQ with predefined specifications, invite vendors to submit quotes, and compare their offers side by side. This not only simplifies the RFQ process but also ensures that you're making the most informed decision possible when selecting a supplier.
When an RFQ is entered, you can invite vendor directly from the vendor RFQ transaction. The vendor then receives an invitation to bid on the RFQ by logging into the NetSuite Vendor Center. When the vendors have completed their bids, there is a handy compare tool on the RFQ to compare the multiple bids submitted.
Purchase Requisitions
Purchase requisitions are formal requests for the procurement of goods or services within an organization. They provide an essential means of ensuring that procurement activities are aligned with business needs and budget constraints. NetSuite's Advanced Procurement module allows you to create, manage, and approve purchase requisitions with ease. The module's configurable approval workflows ensure that each requisition is reviewed and approved by the appropriate stakeholders, reducing the likelihood of unauthorized or unnecessary purchases.
Without the Advanced Procurement module, a purchase request is the closest thing to a purchase requisition, with the main difference being the purchase requests are entered through the employee center, they are still considered a purchase order transaction, albeit in a preliminary stage and must have a vendor assigned. On the other hand, a purchase requisition does not require a vendor to be set and is a separate transaction that is then converted to a purchase order.
Entartes is a leading provider of NetSuite consulting services, offering tailored solutions to businesses looking to implement or optimize their NetSuite systems. Our team of certified NetSuite consultants has extensive experience in helping businesses unlock the full potential of their NetSuite investment, including the Advanced Procurement module.